Monitor Your Business Operations Visually
Axiom Data Services can provide your organization data-driven tools you need to make informed decisions that improve operational performance and bottom line results. Imagine being able to open a web browser, then quickly spot potential problems before they even happen, or having the ability to drill through your company's raw data to identify root causes of operational inefficiencies! Now you can make critical business decisions easily, justified by the actual data generated within your own operations. Regardless of the amount of data your business generates, or the number of disparate systems you use, Axiom Data Intelligence Services can quickly enable your company with powerful tools that require no hardware or software purchases!
Utilizing our Services, you can have: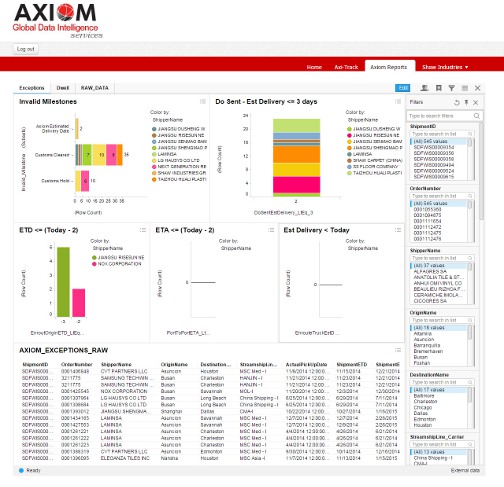 Executive level Dashboards to monitor Business Unit KPIs.
Operational Dashboards to monitor real time activities and performance.
Ability to track and compare performance outputs of Vendors, Product Lines or Categories; at any point in time or historically.
Daily Dashboard Snapshots delivered to Key Stakeholders in other cross-functional business units.
Internal analysts empowered with point-and-click data drill-down capability to identify root causes of business issues; quickly identify responsible personnel and coordinate needed actions.
Trending information to make proactive decisions instead of reacting to events that have already taken place.
Knowledge of how Suppliers are performing real-time to monitor SLA compliance.
Request a call today to find out how we can help your business to do more, with less!